See on Scoop.it – A.I.F News Feed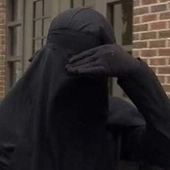 The Proposed Law to ban the face Veil in England and Wales will be debated in parliament this Friday 28th February 2014. The MP who sponsored the bill is Phillip Hollobone, a backbench Tory MP who has gone out of his way to re-order proceedings so that this bill stands a strong chance of being read on the day. After the first reading of the bill in September 2013, there was the most sustained period of positive media coverage against the face veil the UK has ever seen. Positive because at last, people in power are taking note of how we as a country do not need to live in fear of 'who' is under the veil. Children taught by women covered like this are scared as they cannot see a facial reaction to questions asked in class. It is not acceptable any more than it is normal.
Sign the petition and write to your MP to let him know why this barbaric treatment of women must not be allowed in our country.
Not only is the veil a sign of oppresion against women and young girls, it is a big security risk. If you value your liberty as a British citizen, stand up and be counted. SIGN NOW!
See on www.change.org